U Sobotu 14.03.'09 u Beogradskom klubu Trezor očekuje nas žurka Roswell Mania na kojoj će nastupiti Talamsca(Mind Control Records,FR),DJ Wolland(Goasapince BGD),Dj Wizard (Goasapince BGD).
Lestat je jedan od pionira francuske trance scene. Počevši svoju muzičku karijeru kao pijanista pre 15 godina, 1992. uplovio je u vode elektronske muzike, prvo kao poznati DJ pariske andergraund scene, da bi zatim jedinstvenom fuzijom elektronike i harmonije postao prepoznatljiv kao umetnik, svojim radom na projektu Talamasca. Vrlo brzo nakon toga njegovo ime se ceni u celom svetu – od Izraela do Japana, od Meksika do Australije.
Lestat-ove numere izdaju najbitnije izdavačke kuće trance produkcije, uključujući 3D Vision, TIP World, Spirit Zone, Moon Spirit, Shaffel Records, MDMA, Krembo i Spiral Trax. Sarađivao je sa najznačajnijim umetnicima pod različitim projektima: Elixir, Oforia, Space Cat, Children of the Doc, Infected Mushrooms, GMS. Bitan član 3D Vision ekipe, nakon čega osniva sopstvenu izdavačku kuću Mind Control Records i potpisuje mnoga poznata imena psytrance muzike kao sto su: XSI, Bamboo Forest, Silicon Sound, Altom i drugi.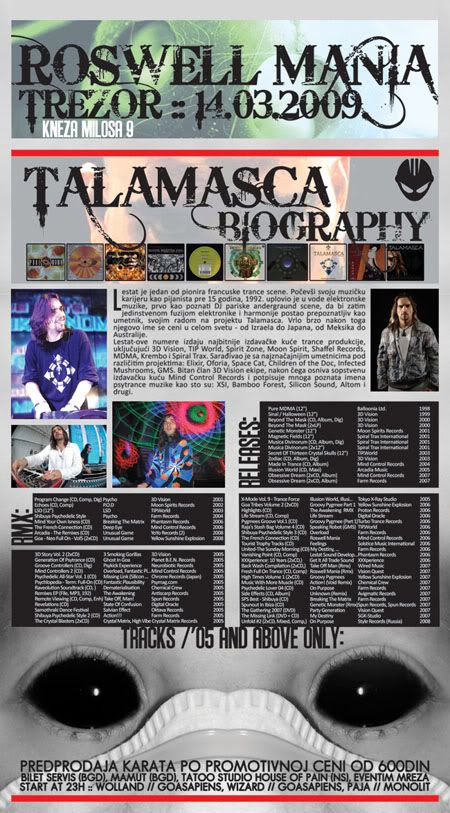 Pretprodaja karata po promotivnoj ceni od 600,oo dinara Bilet servis,Mamut,Tattoo studio "House of pain" (Novi Sad)
On line prodaja : www.biletservis.co.yu
Line Up ::
TALAMASCA LIVE / dj set (Mind control records FR)
Wolland / dj set (Goasapiens BGD)
Wizard / dj set (Goasapiens BGD)
Johnny / dj set (Trancenation NS)
Paja / dj set (Monolit SHA)