Ostalo je još samo nekoliko dana do još jedne velike underground žurke u "beogradskoj techno katedrali".

Ovo vikenda, u subotu, 17, oktobra, za gramofonima će biti londonski Dj BLAWAN. Ovo je prvi put da dolazi i da nastupa u Beogradu. Podršku će mu pružiti Filip Xavi i Lag. BLAWAN dolazi iz Londona i pravi je superstar na globalnoj elektronskoj underground sceni. Dovoljno je samo reći da sa kultnim Dj SURGEON-om već godinama radi na projektu "Trade", a sa PARIAH-om na "Karenn".

Odan je staroj školi i radi isključivo na vinilima. Njegov zvuk se jednostavno može opisati samo u jednoj reči. Techno.
Karte za ovu žurku u klubu "Drugstore" su u prodaji.
*Prvih 100 je po ceni od 800 dinara, a mogu se kupiti su "Bivšem baru" u Kosovskoj ulici.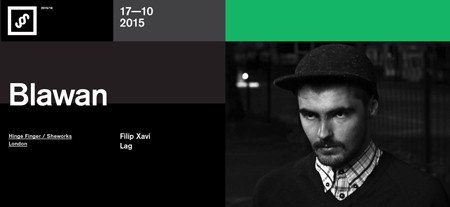 Londonski tehno u beogradskom klubu Drug§tore
*Regularna prodaja, na vratima kluba je po ceni od 900 dinara do ponoći.
*Posle ponoći će biti 1100.
Sve informacije: www.facebook.com/events/680084532128934/
Blawan: www.facebook.com/BlawanUK
Filip Xavi: www.facebook.com/filipxavi1
Lag: www.facebook.com/This.is.Lag
Priprema za subotu:
www.youtube.com/watch?v=NodqPwcsQac
Vidimo se 🙂
Blawan is a true superstar in the techno constellation. As a solo artist, one half of Karenn (with Pariah) or one half of Trade (with Surgeon), Blawan manages to deliver a completely fresh and utterly exciting view on the genre. Blawan's real name is Jamie Roberts and his background is that of a drummer. Moving from one dogmatic decision to another, from releasing strictly on vinyl or using analogue machines in his Karenn live sets, you can sense his dedication to music all the way. As a DJ, Blawan is fast and furious. His influence on contemporary dance music is indisputable. This will be his first Belgrade visit.