Gotov je novi singl zagrebačke electro-pop atrakcije Lollobrigida pod nazivom "Sex on tv, sex on the radio". Članovi Lollobrigida opisuju singl kao zabavnu i ironičnu disco pesmu o svetu medija i današnjim medijskim zahtevima.

Povodom objavljivanja novog singla su izjavili: "Ne pišite knjige, ne spasavajte kitove, raspustite band! Za naslovnu stranu u štampanim medijima je potrebna sasvim druga formula!"
Novi singl "Sex on tv, sex on the radio" je dostupan putem linka www.facebook.com/pages/Lollobrigida/450260490523?sk=app_2405167945 i svi fanovi mogu besplatno da ga preuzmu. Mastering i miksovanje singla "Sex on tv, sex on the radio" potpisuje poznati slovenski producent Gregor Zemljić.

Hrvatski disco pop sastav Lollobrigida najavljuje letnje koncerte po celom regionu. U planu su koncerti uz bendove poput La Roux, The Fall, Crystal Castles, Hercules And Love Affair, Rambo Amadeus, Repetitor, Darkwood Dub, Elemental i mnoge druge.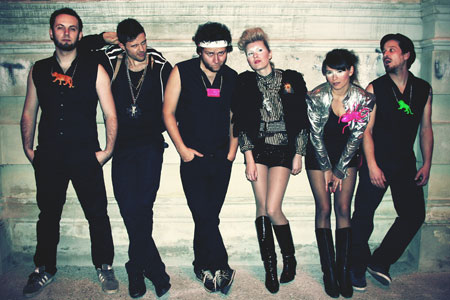 Lollobrigida
LETNJA TURNEJA 2011
18.06. Skofja Loka, Slovenija, Rdeca Ostriga
24.06. Celje, Slovenija, festival FACK
16.07. Rijeka, Hartera festival
05.08. Dodosi, Crna Gora, festival On the other side, Skadar
11.08. Šibenik, Teraneo festival
12.08. Šabac Letnji Festival
21.08. Beograd
Link za pesmu Sex on tv, sex on the radio:
www.facebook.com/pages/Lollobrigida/450260490523?sk=app_2405167945

Lollobrigida
SEX ON TV, SEX ON THE RADIO:
Primi me za nos povuci, Skini me pa me obuci
Stavi me na silver screen
Složi me ko lego kockice, Nasjeckaj kao rotkvice
Ja želim da te zabavim

Bit ću tvoja Dolly
Plesat ću dok ne zaboli
Golo meso, usne, ožiljke pokazat ću ti sve
Samo voli me, samo pozovi me
Ja sam program tvoj

ref.
Sex on tv, sex on the radio..
ooo, go go go!

Pikseli se šire, plazma topi se..

skini me, onda obuci me
stavi me na silver screen
složi me ko lego kockice
ja samo želim da te zabavim
U mraku lovimo se ti i ja
Digitalan beat, analogna pravila (analogija)
Samo ne gasi me…
Važni linkovi:
www.lollobrigida-girls.com
www.youtube.com/user/vislollobrigida
www.myspace.com/vislollobrigida