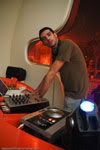 Aleksandar Dimitriijevic was born in Belgrade on the 21st of December 1980, and is better known by the name Antrax.
As well as Belgrade, he has lived in Vienna where he began his career as a DJ, practicing in his small studio where he perfected his mixing technique.
After some time he moved back to Belgrade where he founded the Fanatic Session organization and soon thereafter began working in well-known clubs throughout Serbia and Montenegro, such as
The House, Mamolo, Exile, The Apartment, Energy, Plastic, Aquarius, Club 2, Incognito, Spin, Forte Mare and many more. He has worked alongside household names like Marko Nastic, Dejan Milicevic,
Marko Milosavljevic, Milos Pavlovic, Boza Podunavac, Rade Banjan,
Ladida, Virgin Helena, Paul Jackson, Lottie, Brenda Russell, Sutter Cane, MR C., Billy Nasty, Valentino Kanzyani and many others.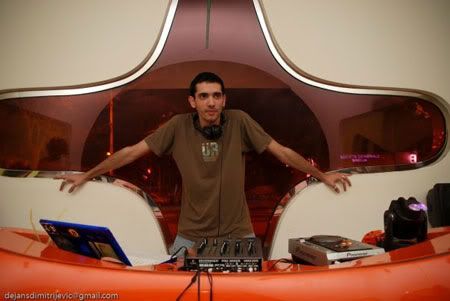 During the Exit 03 festival in Novi Sad he was the resident DJ aboard the Fortress ship, parked underneath the Liberation Bridge, where many Serbian DJs performed. In the past few years he has performed at many well known festivals such as the Wet Rocks Festival in Montenegro, The Summer
Lake Festival in Serbia, as well as performing on New Year's Eve 2006 in
Kotor, at Saint Tripun's Square. He spent the whole summer of 2007 on the party island Ios in Greece, playing music in several clubs. More importantly since 2006 he has been a resident DJ at Exit Festival.

As well as being a DJ he has also been into music production for quite some time. His first release SOUL FOOD COMPILATION EXIT 2008 came out on Traffica Records, a label owned by Serbia's premiere DJ and producer Marko Nastic. This was followed by several other releases and remixes under the name Antrax, on various labels including Kaseta music, Database, Rezonant and many others. Besides these releases he is working on the Fabulous 8 Project alongside another well known DJ and Producer Dejan Milicevic.
His love of music was shaped by his older brother who is a great vinyl records collector of the music from the 80's and 90's. Artists such as Cool and the Gang, KC & The Sunshine Band, James Brown, Herbie Hancock, Art of Noise, Kraftwerk, Yellow, Jean Michel Jarre, Carl Cox,Jeff Milss, Adam Beyer, Valentino Kanzyani, Marko Nastic, Dejan Milicevic are a great inspiration.
His preferred style of music is minimal, house and techno.
Antrax' marathon sets at many after parties and events make him the well known name that he is today.