Blender progresivno nastavlja da melje! Velika faca i stara kajla progresiva dolazi u Beograd na jos jednu fantastičnu Blender žurku!
Drugo ime takodje ne treba mnogo najavljivati obzirom da nas je prošle godine oduvao prvog dana Let's Mix It Festivala – Cid Inc!
DJ Nick Warren je jednostavno rečeno ambasador elektronske muzike. Čovek koji iza sebe ima osam albuma izdatih za Global Undergorund uz trake potpisane i za Renaissance i the Balance Series etikete plus najsvežiji The Soundgarden popularni mixevi čine ga jednim od prvih superstar di džejeva na svetu koji tu titulu decenijama održava. Warrenova muzička širina i raznolikost čini da svaki njegov performans predstavlja jedinstveno iskustvo slušanja., a njegov specifičan pristup omogućio mu je da se poveže sa klubbersima na globalnom nivou. Uprkos svim njegovim dostignućima, Nick Warren nije jedan od onih koji žive od stare slave, već je medju onima koji su fokusirani na predstojeći rad.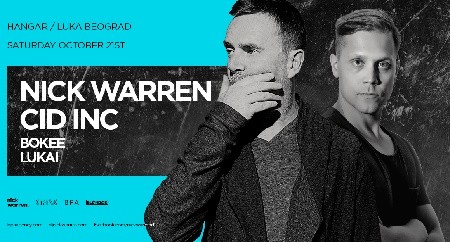 Nick Warren i Cid Inc večeras u Hangaru
Henry Hurting aka Cid Inc je di džej i producnet koji nam dolazi iz Švedske. U svetu elektronske muzike afirmisao se prvo svojim mastering veštinama koje su prepoznate od strane mnogih producenata i etiketa poput Guy J, Hernan Cattaneo, Pig & Dan, Hope Recordings, Lost & Found i mnogi drugi. Ledene i mračne zime na samom severu Švedske, kako sam kaže, ostavile su jasan pečat u njegovom stvaralaštvu. Pre nego što se žanrovski pronašao u techno -u i house -u prošetao se kroz mnoge muzičke žanrove, i tako je 2004. godine došlo do stvaranja Mashtronic-a, produkcijskog projekta u saradnji sa Mathias Bradler-om, koji je naišao na oduševljenje svih a posebno Hernan Cattane-a. Izdanja su se našla i na njegovom Bedrock-u, što su ispratila i ostale velika etikete poput Ministry Of Sound, Global Underground, Sex On Wax i Alternative Route. Međutim njegova muzička transformacija nije stala tu. Svoj nadimak Cid Inc stvara 2008. godine kada postavlja nove standarde progresivne muzike. Osrvario je saradnju sa poznatim labelovima poput Anjunadeep, Lost & Found, microCastle, Natura Sonoris i Sudbeat. Tom uspehu su doprinele i obrade njegovih stvari u izvodjenju Guy J-a, Henry Saiz-a, Hernan Cattaneo&Soundexile-a, Jamie Stevens-a i mnogih drugih.
Nick Warren i Cid Inc večeras u Hangaru
Domaću podrsku pružiće nepogrešivi Bokee i LUKAI.
Karte možete kupiti na svim prodajnim mestima GIGSTIX i EVENTIM prodajne mreže po ceni od 990 rsd za regularne i 1490 rsd za VIP.